Autotomize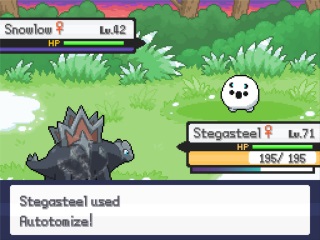 Battles
Type

 Steel

Category

 Status

PP
 15 (max. 24)
Power
 --
Accuracy
 --%
Priority
 {{{priority}}}[[Category:Moves with {{{priority}}} priority]]

Does not make contact
Not affected by Protect
Not affected by Magic Coat or Magic Bounce
Affected by Snatch
Not affected by King's Rock
Target
Foe
Foe
Self
Ally
Affects the user
Availability
Not a TM, HM or Move Tutor move.
The user sheds part of its body to make itself lighter and sharply raise its Speed stat.




Effect
Autotomize raises the user's Speed stat by two stages. If it successfully changes the stat, and if the user is not already at the minimum possible weight of 0.2 lbs. (0.1 kg), Autotomize also decreases the user's weight by 220 lbs.
Community content is available under
CC-BY-SA
unless otherwise noted.