Bounce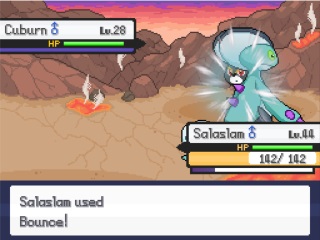 Battles
Type

 Flying

Category

 Physical

PP
 5 (max. 8)
Power
 85
Accuracy
 85%
Priority
 {{{priority}}}[[Category:Moves with {{{priority}}} priority]]

Makes contact
Affected by Protect
Not affected by Magic Coat or Magic Bounce
Not affected by Snatch
Affected by King's Rock
Target
Foe
Foe
Self
Ally
May affect anyone but the user
Availability
Effect
The user bounces up high on the first turn, avoiding most moves. On the second turn, the user slams down onto the target, inflicting damage with a 30% chance of paralyzing it.
The user is able to be hit by Gust, Twister, Thunder, Sky Uppercut, Hurricane and Smack Down during the semi-invulnerable turn of Bounce, and will receive double damage from Gust and Twister. The user may also be hit during the semi-invulnerable turn if it was previously targeted by Lock-On or Mind Reader.
Description
Description
The user bounces up high, then drops on the target on the second turn. This may also leave the target with paralysis.
Pokémon that can learn Bounce
By leveling up
By tutor
Trivia
In v1.0.1 Salatad, Salanip and Salaslam learned this move by level up.
Community content is available under
CC-BY-SA
unless otherwise noted.