Defog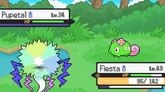 Battles
Type

 Flying

Category

 Status

PP
 15 (max. 24)
Power
 --
Accuracy
 --%
Priority
 0
Target
Foe
Foe
Self
Ally
May affect anyone but the user
Availability
Defog is a non-damaging Flying-type move.
Effect
Defog lowers the target's evasion one stage, even if the target is behind a substitute. It bypasses accuracy checks to always hit, unless the target is in the semi-invulnerable turn of a move such as Dig or Fly.
Defog clears away any fog on the field, as well as Light Screen, Reflect, Safeguard, Mist, Spikes, Toxic Spikes and Stealth Rock on the target's side of the field.
Description
Description
A strong wind blows away the target's barriers such as Reflect or Light Screen. This also lowers the target's evasiveness.
Pokémon that can learn Defog
By leveling up
By Tutor
Trivia