Diamond Claw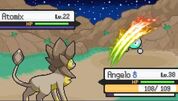 Battles
Type

 Rock

Category

 Physical

PP
 10 (max. 16)
Power
 75
Accuracy
 100%
Priority
 {{{priority}}}[[Category:Moves with {{{priority}}} priority]]

Affected by Protect
Not affected by Magic Coat or Magic Bounce
Not affected by Snatch
Affected by King's Rock
Target
Foe
Foe
Self
Ally
May affect anyone but the user
Availability
Not a TM, HM or Move Tutor move.
Diamond Claw is a Rock-type move. It is an Original Solar Light & Lunar Dark. It is the Signature move of Leonite.
Effect
Diamond Claw has a 50% chance to raise the user's Defense.
Description
Description
The target is raked with claws as hard as diamond. Inflicts damage, that raises the user's Defence moves.
Trivia
In Gen VI a move called Diamond Storm is a damaging move, its has the same category as Diamond Claw, has higher PP than Diamond Storm and has a 50% chance of raising the user's Defense.
Diamond Storm does 20 more damage than Diamond Claw.
Community content is available under
CC-BY-SA
unless otherwise noted.