Electroweb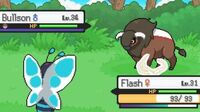 Battles
Type

 Electric

Category

 Special

PP
 15 (max. 24)
Power
 55
Accuracy
 95%
Priority
 0

Does not make contact
Affected by Protect
Not affected by Magic Coat or Magic Bounce
Not affected by Snatch
Affected by King's Rock
Target
Foe
Foe
Self
Ally
Affects all foes
Availability
Electroweb is a damage-dealing Electric-type move.
Effect
Electroweb inflicts damage and then lowers the target's Speed stat by one stage.
Electroweb targets all adjacent opponents.
Description
Description
The user attacks and captures opposing Pokémon using an electric net. This lowers their Speed stat.
Pokémon that can learn Electroweb
By leveling up
#
Pokémon
Type
Level
031
Glowig

Bug

19
033
Glowing

Bug

Electric

21
Bold indicates a Pokémon gains STAB from this move.
Italics indicates a Pokémon whose evolution or alternate form receives STAB from this move.
By Tutor
Trivia