Fever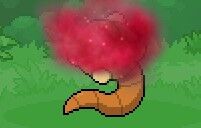 Battles
Type

 Poison

Category

 Special

PP
 25 (max. 40)
Power
 60
Accuracy
 100%
Priority
 0

Does not make contact
Affected by Protect
Not affected by Magic Coat or Magic Bounce
Not affected by Snatch
Affected by King's Rock
Target
Foe
Foe
Self
Ally
May affect anyone but the user
Availability
Fever is a Poison-type move. It is an original Solar Light & Lunar Dark move. It is TM102.
Effect
Fever does damage and has a 10% chance of burning the target.
Description
Description
The user infects the oppponent with a blast of pathogen. It may also burn the target.
Learnset
By level-up
#
Pokémon
Type
Level
140
Feva

Poison

17
141
Fevira

Poison

Dark

17
142
Fevesta

Poison

Dark

17
Bold indicates a Pokémon gains STAB from this move.
Italics indicates a Pokémon whose evolution or alternate form receives STAB from this move.
By TM
Trivia
Currently, there is no Poison-Type move in official Pokémon games that causes burn.
This move can be considered a Poison Counterpart of Scald (move).