Flash Cannon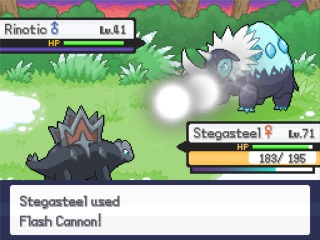 Battles
Type

 Steel

Category

 Special

PP
 10 (max. 16)
Power
 80
Accuracy
 100%
Priority
 {{{priority}}}[[Category:Moves with {{{priority}}} priority]]

Makes contact
Affected by Protect
Not affected by Magic Coat or Magic Bounce
Not affected by Snatch
Affected by King's Rock
Target
Foe
Foe
Self
Ally
May affect anyone but the user
Availability
Flash Cannon is a damage-dealing Steel-type move. It is the TM91 found in Frosthail Forest.
Effect
Flash Cannon does damage and has a 10% chance of lowering the target's Special Defense by one stage.
Description
Description
The user gathers all its light energy and releases it all at once. This may also lower the target's Sp. Def stat.
Pokémon that can learn Flash Cannon
By leveling up
By TM
Trivia
Community content is available under
CC-BY-SA
unless otherwise noted.