Leaf Darts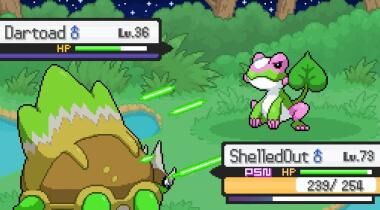 Battles
Type

 Grass

Category

 Physical

PP
 10 (max. 16)
Power
 10
Accuracy
 90%
Priority
 +1

Makes contact
Affected by Protect
Not affected by Magic Coat or Magic Bounce
Not affected by Snatch
Affected by King's Rock
Target
Foe
Foe
Self
Ally
May affect anyone but the user
Availability
Leaf Darts is a Grass-type move. It is an original Solar Light & Lunar Dark move. It is TM105.
Effect
Each of Leaf Darts hit has a separate accuracy check. If any hit fails, the move ends.
Since each hit has 90% base accuracy, there is a 72.9% chance that it will hit 3 times (for cumulative 60 base power), an 8.1% chance that it will hit twice (for cumulative 30 base power), a 9% chance that it will hit once (for 10 base power), and a 10% chance that it will miss outright. With all three accuracy checks and base powers taken into account, the move's effective power is 47.07.
If the target has an Ability that activates upon contact, each strike counts individually, enabling the Ability to activate multiple times.
Leaf Darts may now continue attacking after breaking a substitute. If the user is holding a King's Rock or Razor Fang, each consecutive hit has an equal chance to cause the opponent to flinch.
Description
Description
The user launches three darts made of leaves at the target. It is sure to strike first.
Learnset
By leveling up
By TM
Trivia
Leaf Darts move effect was changed from version 1.0 to version 1.0.1