The
Serpentine Gym
is the official Gym of
Serpentine City
. It is based on Poison-type Pokémon. The Gym Leader is
Donna
. Trainers who defeat her will be awarded with the Thorn Badge.
Appearance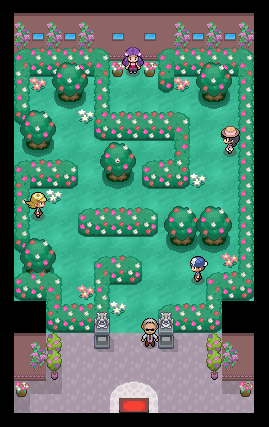 Items
Item
Location
Antidote
From the Gym Guide
Trainers
Trainer
Pokémon

Youngster Lacey
Reward: 216

Lass Vinal
Reward: 216

Bug Catcher Trixy
Reward: 144

Trainers with a telephone symbol by their names will give their

Pokégear

number to the player, and may call or be called for a rematch with higher-level Pokémon.
Reward:

1200

Held item:

Oran Berry

Feva

♀

Lv.12
Items
Item
Location
Antidote
From Clyde at the entrance
TM102 (Fever)
Reward for defeating Donna