Swords Dance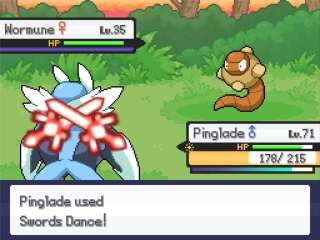 Battles
Type
 Normal
Category
 Status
PP
 20 (max. 32)
Power
 --
Accuracy
 --%
Priority
 {{{priority}}}[[Category:Moves with {{{priority}}} priority]]

Does not make contact
Not affected by Protect
Not affected by Magic Coat or Magic Bounce
Affected by Snatch
Not affected by King's Rock
Target
Foe
Foe
Self
Ally
Affects the user
Availability
Swords Dance is a Normal-type status move that increases the users attack. It is TM75 and can be bought in Rustbolt City Game Corner.
Swords Dance increases the user's Attack stat by two stages.
DescriptionEdit
Description
A frenetic dance to uplift the fighting spirit. This sharply raises the user's Attack stat.
Pokémon that can learn Swords DanceEdit
By leveling upEdit
In v1.0.1 Scorlit and Scorpinova couldn't learn Swords Dance