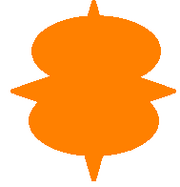 Team Solar is one of the villanous groups of the region of Rikoto, the other being Team Lunar. Like Team Lunar, they are attracted to Rikoto's five temples.Their goal is to awaken the legendary Order Pokémon Solaran, take control of it, and command it to defeat the legendary Chaos Pokémon Lunaro. Doing so would unbalance the world and cause natural disasters before the world ends in an apocalypse.
Their members consist of grunts, officers Gloria and Brite, and their leader Starla.
Officer Brite
Solar Officer Brite is an officer of Team Solar. He is first met at Thundrome Pass, where he steals the Volt Stone from Aethera's temple.
First battle
Reward:

1500
Second battle
(alongside Gloria)
Reward:

1500
Officer Gloria
Solar Officer Gloria is an officer of Team Solar. She is first met at Mount Highpoint, where she is trying to steal the Core Stone from Tigacore's temple.
First battle
(alongside Brite)
Reward:

1500
Second battle
Reward:

1500
 Leader Starla
Reward:

1500